SIMAS new Weather-proof doors for lifts and lift platforms are the ideal solution to keep your property high value in terms of energy efficiency classification and comfort.

The SIMAS unique Weather-proof door is an absolutely new solution on the lift and lift platform market.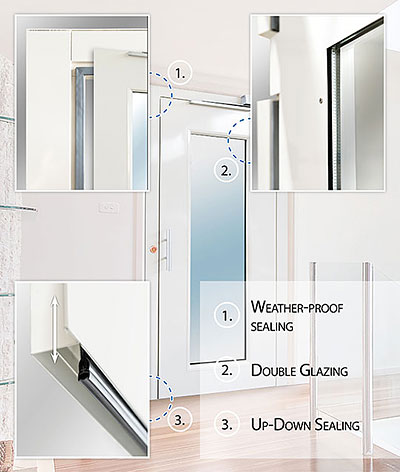 WEATHER-PROOF
Comfort and high energy efficiency

The outdoor installation of lifts and lift platforms is becoming more and more frequent because it can reduce masonry and the inconveniences caused by installation.

SIMAS Weather-proof doors definitively solve the problem of heat loss and air exchange between your house and the outside, thus improving comfort and practical use of the lift.

The swing door is Weather-proof thanks to the insulating material inside and/or the double glass, for glass models. The contact surfaces between the door jambs and the swing door feature special magnetic seals; the air leakage protection on the sill is ensured by an automatic moving seal, which is activated as soon as the door is opened or closed without sliding on the floor.

Keep the energy efficiency classification of your property with SIMAS Weather-proof doors.
Some Recent Installations